We work hard to provide you the best representation available
Share your experience with us so we may better serve you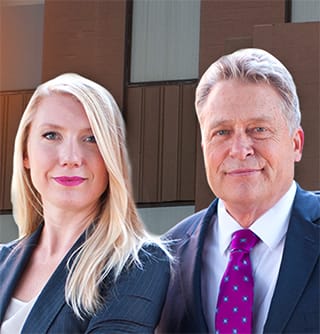 ---
The Best Defense Attorney You Could Ask For
Steve Thayer is the best defense attorney anyone could ever ask for. Not only him, but his entire team from Jacy Thayer all the way to his Legal Assistant and Office Assistant. They are a well oiled machine.
I was falsely accused of a very serious violent felony that had the potential to effectively ruin my life. My case dragged on through the Covid pandemic. Throughout the whole process, Steve and his team were very professional and kept in contact with me and let me know what was going on with my case at all times.
Steve could have gotten me the best plea deal possible due to his experience and relationships within the prosecutor's office. I was amazed at the deal he could have gotten me. Even with that said, I couldn't admit to something I didn't do and elected to go to trial.
During trial prep, Steve and his team went above and beyond what I had expected. They arrived early and stayed late almost every day. Jacy made me feel so comfortable about my testimony to the point where I wasn't nervous when it came time for me to give it.
Now came the trial… Watching Steve during the trial was like watching an artist paint a masterpiece. He scratched and clawed to win every motion and every objection. He was so well prepared. Even though I was terrified with my life on the line, Steve's level of expertise and level of respect he had in that courtroom really helped put my mind at ease. His cross examination of the State's witnesses was perfect. Jacy's direct examination of our witnesses and myself was so flawless, the prosecutor didn't even cross examine any of us. Steve and Jacy left no stone unturned and had complete command of the courtroom. Watching Steve go up against the State's prosecutor was like watching an MLB pitcher pitch to Little League batters. He dominated and painted the perfect picture of why I was innocent and should be acquitted.
I couldn't recommend Steve Thayer and his team strongly enough. I felt so lucky to have him as my attorney. If, god forbid, a friend or family member runs into any legal trouble, Steve is the one and only defense attorney I would have them call.
With all of his experience and relationships, nothing will ever catch Steve Thayer by surprise. He knew exactly what to do in every situation and advised me flawlessly. From the very beginning and having me do a polygraph, to advising me to do a bench trial, all the way through the entire trial. Steve knew exactly what to do and put me in the absolute best position to prove my innocence.
Dealing with a situation where you need a defense attorney is never a pleasant experience, but if you are able to retain Steve Thayer as your attorney, you should be thankful and can rest assured that your case is in the hands of the absolute best defense attorney around.
I truly feel like Steve Thayer and his team saved my life and I am forever grateful. I will consider them family for the rest of my life.
Cameron C
Great Attorney
My son wrote a defamatory review on Lawyers.com and I would like to rebuke his statement. Steve Thayer is a phenomenal attorney! He told us he would get all charges dropped in which he did. Negotiations are a big part of any court case and Steve prevailed. My son ended with no charges on his record. I would not hesitate to hire Steve Thayer again if the need should ever arise.
My son's dissatisfaction should have been directed at the Sheriffs Office.
RR
Richard R
Absolutely Great Job
I have to thank you for the absolutely great job you did today! The gift of 4 more weeks of freedom for me is all due to to you!
I knew you were the best, and I'm so thankful that you were willing to defend me! My wife and kids were elated to hear the news! Job well done!!!
T.R.
Great Lawyer And Person
Thank you for working so hard and fighting for my son. I appreciate you and your work more than you'll ever know. As tough as you can be, you are passionate with a kind heart and this is what makes you a great lawyer and person. Thank you
J.G
Excellent legal representation
Dear Mr. Thayer
I wanted to take this opportunity to thank you for the excellent legal representation that you have so graciously provided to my family. I am grateful for so many reasons. First and foremost, I believe that you made a critical difference in the sentencing phase of our case, and because of this, Kenneth will have a bright and productive future. You were always so kind, encouraging and understanding with my lack of the legal system and foreign terminology. Hence, explaining things to me with a clear and nonjudgmental approach.
You have touched me with your true character of a gentleman, a family man, a brilliant attorney, but most importantly a wonderful human being. Mr. Thayer, you have truly made a difference in our lives. I am beyond blessed to have known you and more than grateful to have had your most knowledgeable legal counsel.
In addition, your assistant Amber has been a complete treasure and delight. She is warm, caring and incredibly efficient. Amber was so comforting to me during my many phone calls to your office in which I felt lost, scared and in complete despair. Amber was kind and gentle. A true professional with a compassionate heart.
Mr. Thayer, In closing, I thank you again for your understanding, support, education and most of all your ability to help us achieve so much while we navigated through the very complex judicial system. I sincerely wish you all the best.
L. L.
My freedom was at stake
I was put in the worst position of my entire life and my life, my freedom was at stake. I went to Steven Thayer and from the beginning he was helpful and ready to provide me with the best defense possible.  Steven and his team fought for me and my family to the end and we could not be happier. They genuinely want to help there clients. If you want someone who knows what they are doing and is the best at what they do, you want to go with Steven Thayer. He's tough, understanding, and will fight for you to the end. From the bottom of our hearts we would like to thank Steven, Jacy, Elizabeth, and Amber. You are the best team out there! You will always hold a special place in our hearts.  Thanks again you guys.
Kevin R
An Experienced And Wise Attorney
It was a good decision to go with an experienced and wise attorney. I hired Steve to defend my son and Steve delivered, and delivered very well. He is a straight shooter and uses his skills to find the best solution to your case, to get you the best outcome. Steve and his entire staff were always there to help. Thank you Steve, Jacy, & the team!
A.B.
Steve Is One Of The Best Attorneys In Washington
I am a local Law Enforcement Officer, located here in the Portland metro area and I was falsely accused of a domestic violence crime. Upon finding myself arrested and thrown into this horrible, and very scary situation I turned to the BEST attorney's money can buy. Mr. Thayer and his dedicated team, helped me get a NOT GUILTY verdict when we took the case to jury trial.
Please, take it from me, (as a Police Officer, with several years on the job), if you ask any Police Officer in SW Washington about Steve Thayer they would tell you that Steve is one of the best attorneys in Washington. I would also bet that they would tell you that if they got in trouble, like I did, they would want Mr. Thayer on their side!!!!!!
FJK
Won Us Our Lives Back
In me and my family's darkest hour I turned to Steve Thayer. Not only did he bring the truth to light, but he fought the corruption of the system every step of the way. Steve won us our lives back when others would have backed down in the face of such odds. Steve is phenomenal, I will always be indebted to him for what he did for my family.
J.G.
Truly Cared About Me And My Family
I was very surprised about all the people in the court system who know Steve Thayer. Everyone I talked to told me I had the best attorney in town. Steve worked very hard and worked his magic for me, got me a great deal. Steve truly cared about me and my family. I would recommend him for anyone who needs his services.
Mike W.
Not A Better Defense Attorney Anywhere
It looked as if I would go to prison. Instead, I had prominent mention at a national meeting of prosecutors as "one that got away"
Steve Thayer's most impressive behaviors:
Stays focused on what matters.
Clever.
A role model for impeccable integrity.
Treats everyone including opponents with not just indisputable respect, but with understanding.
When he must be understood, he's prepared, short and to-the-point, and most effective in his delivery.
I do not believe there is a better defense attorney anywhere. He deserves every bit of his coveted AV rating with Martindale.
W.Z.
Best Lawyer I Could Have Possibly Had
Steven Thayer was the best lawyer I could have possibly had for my case. Not only did he get me probation on what was originally a prison case, he helped me have a better life, and taught me how to be a better person. He genuinely cares for his clients and fights for what he believes in. I never felt like I was going through it alone. Mr. Thayer always told me I was a great team-mate and he helped me to focus on my strengths as well as the positive things in my life. I am forever grateful for my freedom and blessed to have had Steve in my corner.
M.T.
Professional and Brilliant
Steven Thayer represented my case in a professional and brilliant manner. I listened to his advice and followed his directions. The end result was an outcome I could only have hoped for before hiring him. I would not hesitate to recommend Steven Thayer to anyone who needs a criminal defense attorney.
RS